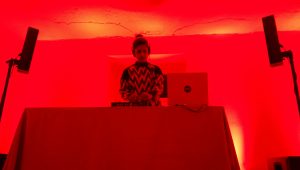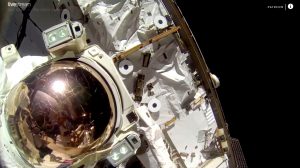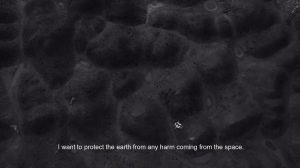 Trailer, Video, 2'33"
Zeneli's works and performance have always involved more or less large numbers of people. By his performance And then I found some meteorites in my room (Tirana, March 2018) the artist involves two characters, i.e. Bujar and Flora, father and daughter, both coal pickers in the area of the former plant of Metalurgjiko, near Elbasan, about fifty kilometres from Tirana. In spite of their living conditions, Flora is a DJ for love, while Bujar has cultivated his great interest in space and developed his own theory on the solar system and dark matter. Bujar is invited by Zeneli to illustrate his own theories, while Flora, introduced by her last name, as DJ Sulejmani, performs with mixed sounds; images of space broadcast by the International Space Station are screened against the background. The audience not only takes part in but is an active part of the work, "just as we are part of the solar system", which creates a powerful physical and mental dimension. Strung between reality and the possible, the artist explores the distance between earth's inhabitants and the shuttle as a metaphor of the attempt to escape from gravity. The video deals with the recurring theme of infinity that resides in the human soul and of that part of the world ousted and expropriated but still capable of desiring and imagining, who are at risk of being left behind by the adventure of modernity.
Gabi Scardi
2018, 3 channel video installation 22'00" min, live streaming of ISS and sound performance by DJ Sulejmani.