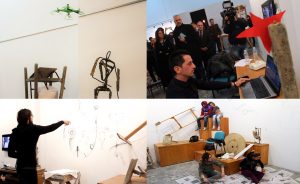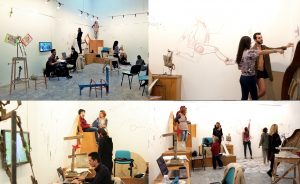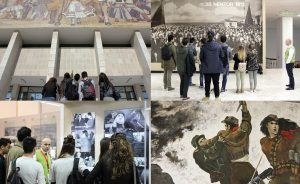 Trailer, Video, 2'22"
Durational Performance – In Collaboration with: Liceu Artistik "Jordan Misja",and Academy of Fine Arts in Tirana
It was 1981 when on the facade of the Historical Museum the mosaic 'Shqiperia' meaning 'Albania' is realised by artist Vilson Kilica, Aleksandër Filipi, Agim Nebi, Met Deliu, Josif Droboniku and Anastas Konstandini. The mosaic shows a battle where the participants are man and women from the Iliri era until the Renaissance. On the mosaic there are partisans of the anti-fascist struggle until the National- Socialism. After the fall the communism in 1991, during the first year's democracy, the five ends star on the flag in the middle of the mosaic, representing the period of the Albanian Social Communism, was removed.
Taking as starting point the mosaic "Albania", I decided to invite the students from the Liceu Artistik, and the University of Art in Tirana, from visual arts, theatre, dance and film making, to practice, make and experiment with a possible or impossible representative image of contemporary Albania from inside the museum's walls. I asked them: who are for you the heroes and non-heroes of nowadays?
2015, Video, 8'39", color, sound.