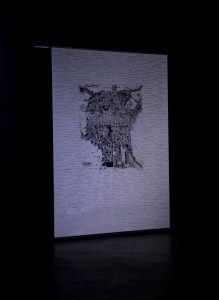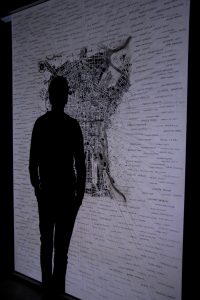 Pyrography and marker on MDF board; video projection, 300 x 200 cm, 2012. Courtesy Resò Meet Up
The Artist asked artists and curators who have collaborated with Resò Meet Up in Turin to remember and indicate, without any help but memory, the name of those artists who have lived or who have temporary worked in Turin between 1967 and 2012.
These lists containing unavoidable repetitions or omissions, have been transcribed on a board. In its center, Zeneli has projected the map of Turin where Alighiero Boetti in 1967 wrote the names of some artists operating in the art movement Arte Povera. Rather than a work on an archive or a cataloguing act, this work investigate the responsibility of memory.
Maria Teresa Roberto